MONTESSORI MUSIC WITH CAROLYN
Engaging, educational...FUN!
For children 3-8 years old.
Weekly on-line music activities with Carolyn via live Zoom sessions just for you.
I will be following my sequential set of music classes for young children from my Musically Montessori Curriculum that I've been offering since 2013.
Each lesson focuses on a basic concept in music education that fits the interests and abilities of the young child.
I use the principles of the Orff-Schulwerk Music Education Certification Program for early childhood, as well as tried-and-true Montessori techniques I've used for more than 3 decades of teaching.
Learning through the art of play!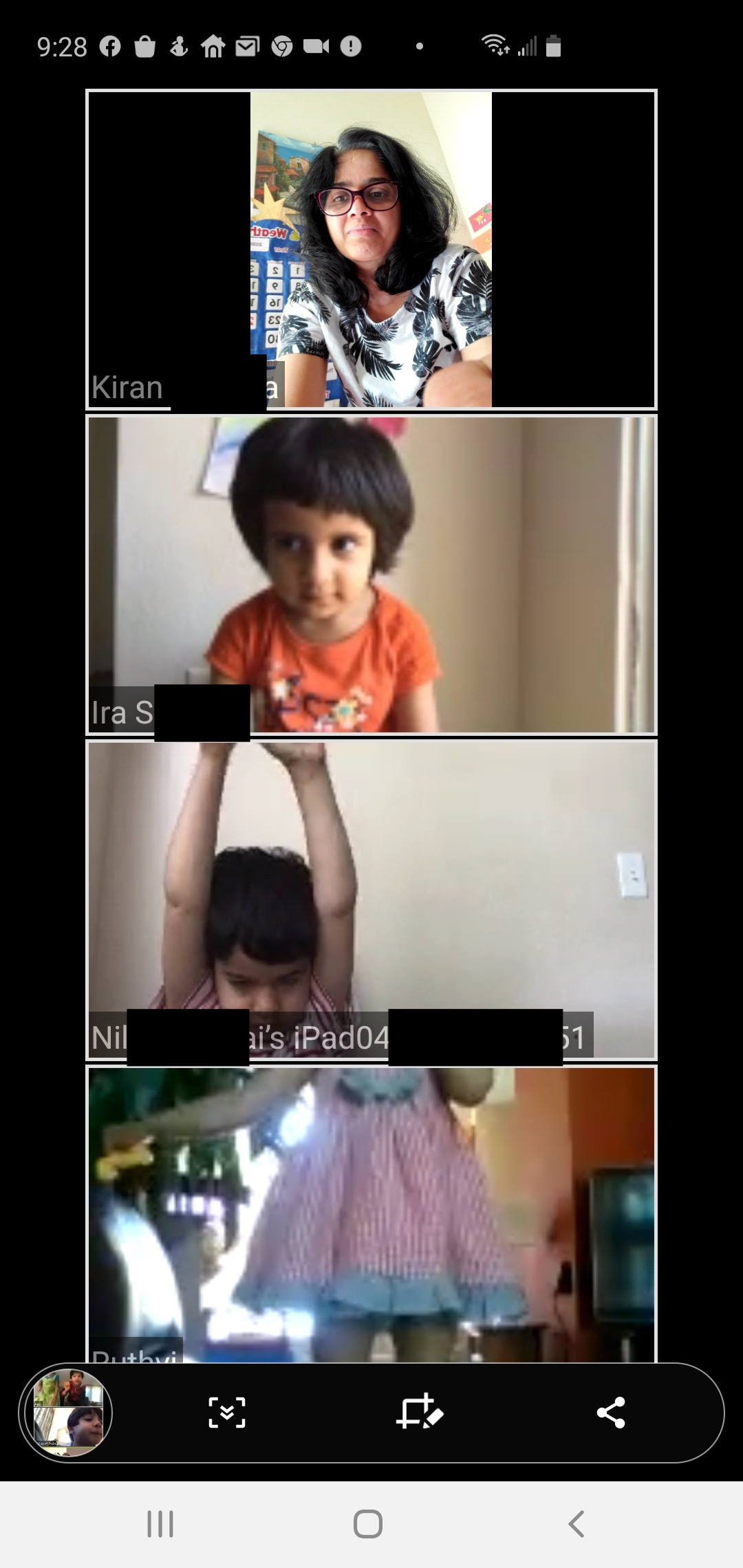 "Virtual" Music Class in your own home!
When the pandemic hit in 2020, we began offering Montessori music classes via Zoom. Some of the Montessori classrooms where I had been teaching for years, were missing having their weekly music class with me. So we quickly set up "Zoom music with Ms Carolyn" and it was challenging but so fun! I got better and better at it and the children became more and more skilled in practicing their music activities in their own homes.
I now offer these virtual music classes in homes all over the world. Thank you, zoom!
What's in these weekly coaching sessions?
Each 30 minute class is made up of:
Playful Voice and Hand Warm-ups
Greeting Songs
A Movement Activity that goes along with the Theme of the Lesson
Focused Listening Activities
A short & engaging Introduction to the Lesson Theme through puppets, visuals, stories and singing games
Child-size Rhythm Instrument Exploration (including rhythm sticks, shakers, bells & drums...these can be homemade)
Sharing Time
Ending Songs
Individual Family Classes or Small Groups of Families
If you like, we can set your family up with one or two other families who are enrolled in my Homebound Montessori Gold Plan. These sessions will be held at an agreed upon time that fits everyone's schedule.
Or you can have your own special music class with Carolyn each week and we can tailor your music lessons to fit the needs of your family exclusively.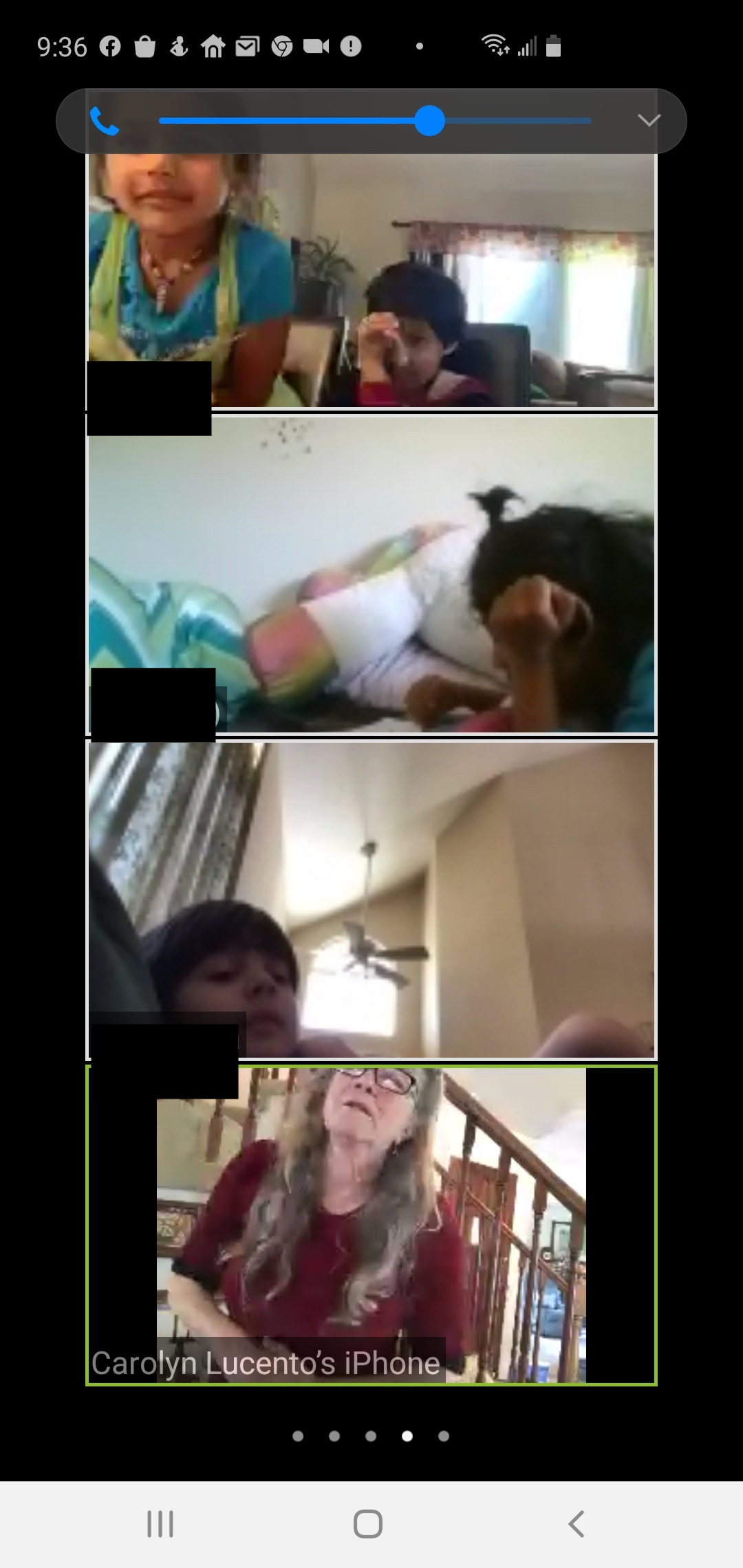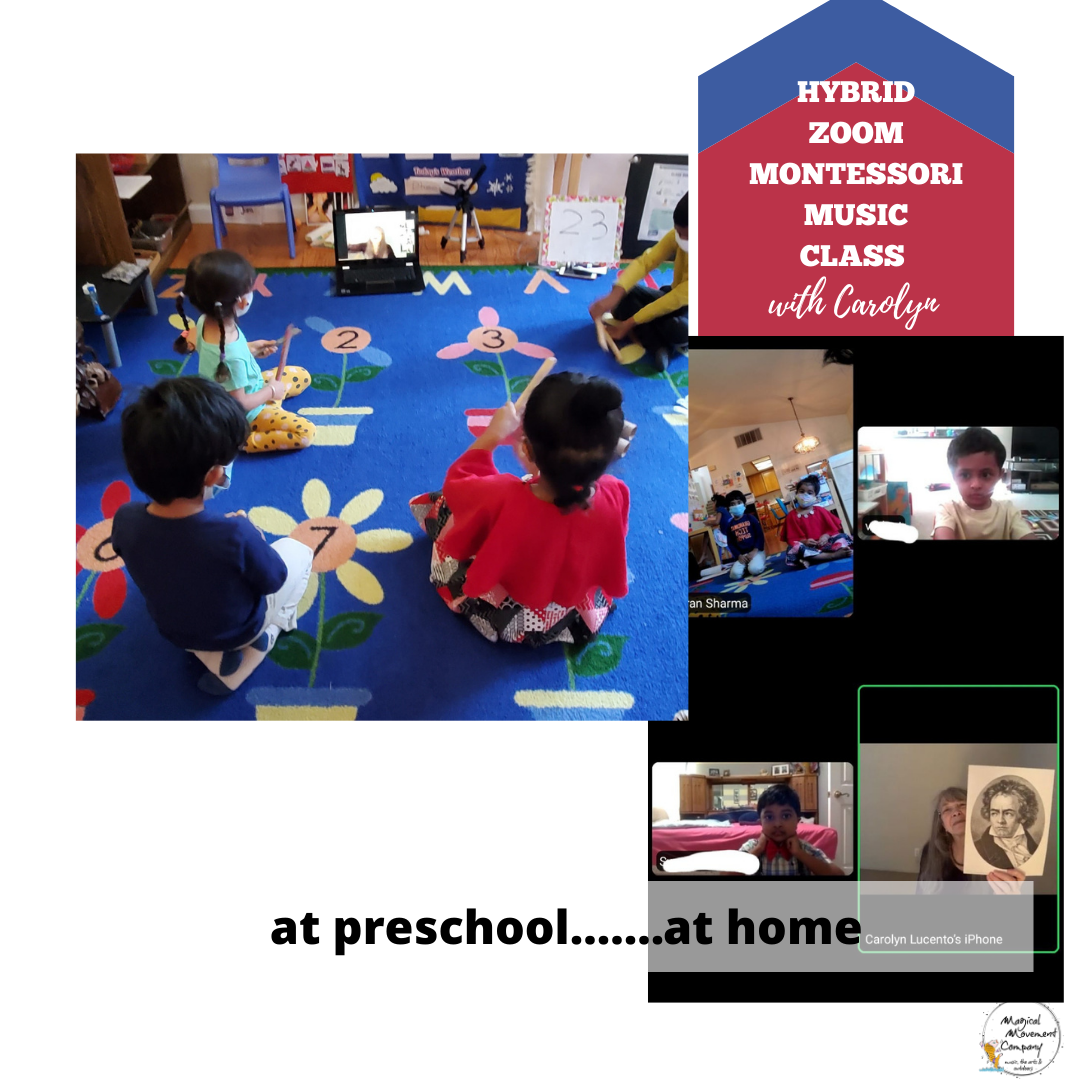 "Hybrid" Zoom Montessori Music Classes
As the world-wide pandemic began to normalize, some of the schools where I teach Montessori music, asked to set up "Hybrid" zoom classes. Some of the schools were re-opening, but there were still families who preferred remote learning. With our "hybrid" sessions, children attending preschool both in person and at home, could participate in our weekly music lessons and I could continue our music curriculum safely from my home! At Kiran's Montessori in Pleasanton, CA, we enjoyed our weekly meetings "virtually" and still had a great time together.
PLEASE CONTACT ME TO LEARN MORE ABOUT THE PRICE RATES FOR PRESCHOOL "HYBRID" ZOOM MUSIC SESSIONS.
Contact me to set up our weekly sessions!
I have designed these Homebound Montessori Music Classes as a subscription service, so that you and your family can easily enjoy ongoing Montessori Music Classes with Carolyn at an affordable rate.
My "Gold Plan" offers you a free first session and then ongoing 30-minute classes at a monthly rate of $200/month.
You can email me:
or call:
707-331-2232

Your intake form has been submitted. Check your email for a copy of your responses. If you're accepted, you'll receive an email with a link to checkout.